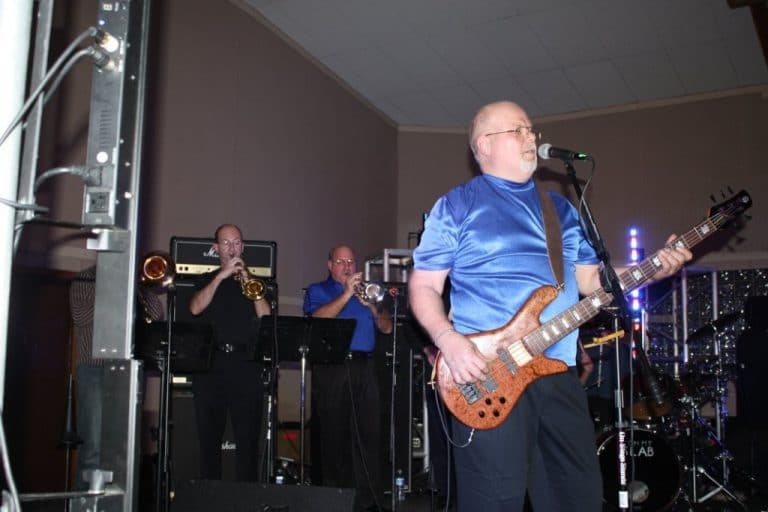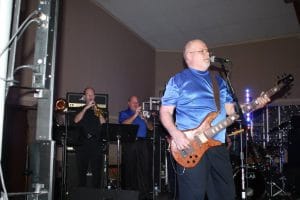 Jim Richards Sr. (or "senior", as most of the team calls him) had an early education on his two main interests in life; electronics & music. His dad had saved training materials from National Radio Institute course and Jim got interested in clandestinely reading them in the basement. One day his dad caught him and instead of getting mad, his dad asked if he would be interested in doing some of the labs. Jim enthusiastically said "YES!". Thus a career in electronics was born. His first claim to fame was when he put fully-functional electric lighting into his niece's doll house…at the age of 8.
He started out with musical aspirations back in 5th grade in the mid-60's. He went through the 'normal' channels of playing a wind instrument (saxophone), then a keyboard instrument (organ) and finally graduated to guitar. Eventually 'repurposing' an old Crosley console AM radio / phonograph / TV into a guitar amplifier in his parents' basement, he kept playing guitar along with all that 'devil's music' from the Monkees, Paul Revere, and Vanilla Fudge (the organ lessons came in handy with that last one)…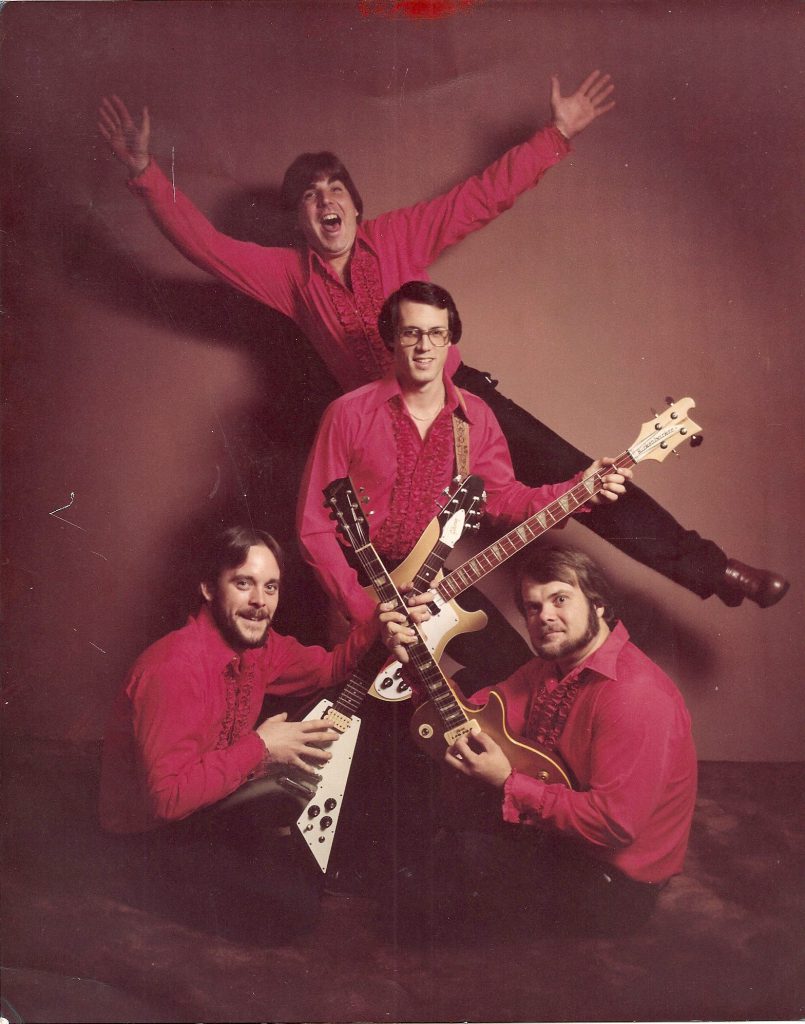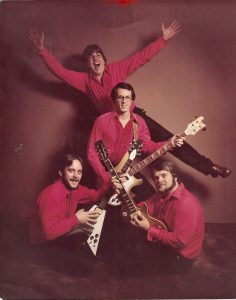 In 1972, he graduated high school the same year he graduated into his first band "Helshed" (don't ask; even he admits he doesn't know where the name came from), first a 3 piece, then eventually a 4 piece, and then became Pyramid, as a 5 piece band. During this era, he was a lead vocalist, guitarist, keyboardist, and 'designer' for lighting controllers, modified instruments and interfaces (guitar, vocals, and Rhodes piano running through a Leslie speaker), guitar and keyboards through a 'talk box' (long before Heil came out with their stompbox version), and modified mixers, bi-amp speaker controllers, etc.). He proudly stated that he didn't own a piece of equipment that hadn't been modified somehow to meet his own needs.
Jumping well ahead, Jim had gotten married and had 2 children (with his still wonderfully understanding wife, Jane). Then some medical issues became a startling reality, starting in 1977 with Leukemia. He received treatments through 1979, took a sabbatical from music and concentrated on more 'home-bound' activities…like starting to repair electronic musical instrument equipment, eventually starting his official repair business, Richards' Music & Electronics in 1988. Eventually the business became a factory-authorized service center for dozens of manufacturers like Fender, Marshall, Roland, Peavey, Ampeg, and the like. He still maintains the same relationships to this day.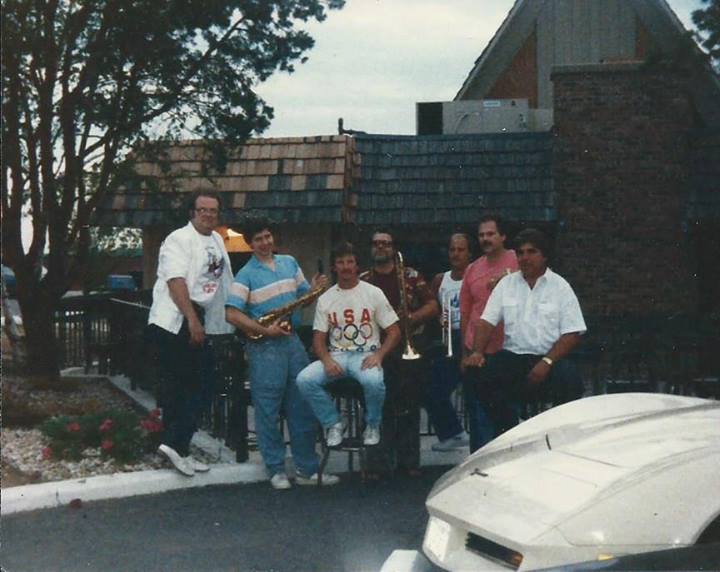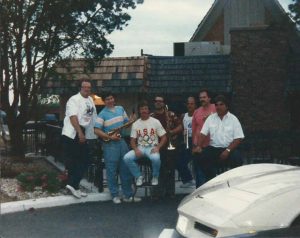 Several years later, he re-engaged his love of music by rejoining Pyramid, this time as bassist, vocalist, and, as expected, 'technical director' of the 7 piece band (added horn section). The band went on to some bigger stages, opening for the likes of Blood, Sweat, & Tears, Billy Preston, Hank Williams Jr., and many others in the Chicagoland area. This ended somewhat abruptly in 1995 when his Leukemia relapsed and 2 years later in 1997 when he went through a bone marrow transplant.
In 2004, Jim got a call from a customer that needed some work done on a Mesa Boogie Bass 400 amp that others had dug into, but couldn't make it work right. He turned the amp in a week and when the customer came to pick it up, they started discussing live sound and yet another 'career' was born. He started working bigger live events with the other sound company and used that income to start up the production side of Richards' Music & Electronics. During the following 11 years, the company garnered a reputation as a very detail-oriented production entity and collected numerous clients as a result (including numerous referrals from the aforementioned sound company).
Jim Richards Jr., much like Jim Sr., started early on with music and electronics. JJ (short for Jim Jr.) always looked up to his dad and wanted to be an electrical engineer, just like him. He was always fixing things around the house – although many times fixing meant breaking – but that's how he learned. If dad was in the shop, he was in the shop. He was always intrigued about electronics and how stuff works. Many times, even when he was young, he would help dad's band setup for gigs or go to practice. He didn't know it at the time, but music and electronics was already coursing through his veins.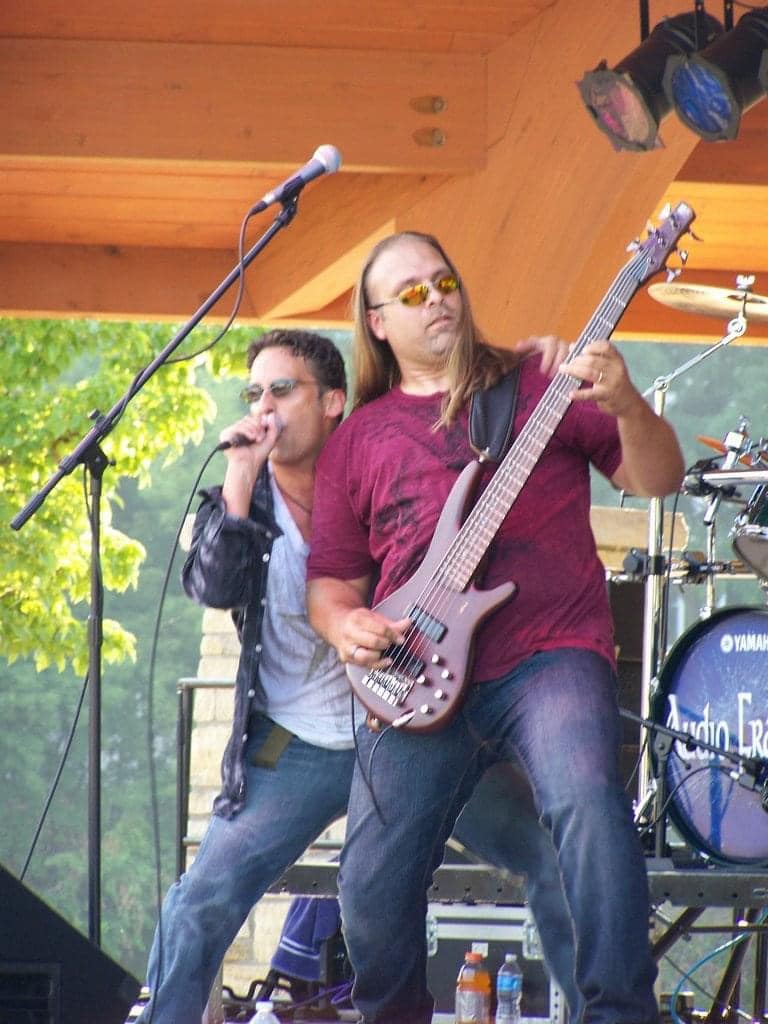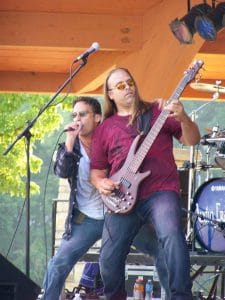 In the 4th grade, JJ came home from school announcing that he wanted to play the drums. Much to his dismay, mom and dad suggested he try the saxophone instead, since they already had an alto sax there at home. He agreed and that started his love of playing music. At the ripe old age of 13, Jim Sr.'s current band, Pyramid, lost their current sound engineer and so Jim Sr. approached JJ and asked if he would like to run sound. He knew very little about running sound, except the basics, but he said he would learn, and that he did. Before he could even drive, he was running sound on large sound systems for big outdoor events and loved it.
At 15, some friends at school were putting together a band and he wanted to be part of it. They had everything but a keyboard player, so that's what he started with, using an old, beat up, Wurlitzer 200 and of course since there was PA equipment on hand, practice was always at his house! Eventually the band evolved and needed a bass player, so he taught himself to play bass (with a little help from dad). Over the years, he played bass at 100's of shows under the names Pyldriver, JJ Hill, D5W, No Limit, Rest In Rage, 1000 Faces, Smackdown, St. Jupiter, Hinge and Audio Fracture.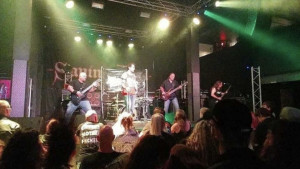 Jim Jr. went to college for a few years (for electronics) but grew tired of school – he had a full-time job working at Panduit, plus was taking care of Richards' Music & Electronics while dad was sick. It was getting to be too much. Then along came his now wife, Robyn, whom he had met years back in high school. There was not enough time in the day for the love of his life, school and basically 2 full-time jobs, so he decided to leave school. Eventually he got a job with his best friend Scott Hill (former guitarist for JJ Hill, D5W, No Limit, St. Jupiter and Hinge) doing electrical and mechanical maintenance. After just over a year, he started to have issues with carpal tunnel syndrome and eventually ended up taking a job as a Network Administrator for Naperville Public Libraries. From there he worked as an IT consultant and administrator for multiple companies. Eventually in 2006, he started his own IT consulting firm, IT Services Group, Inc.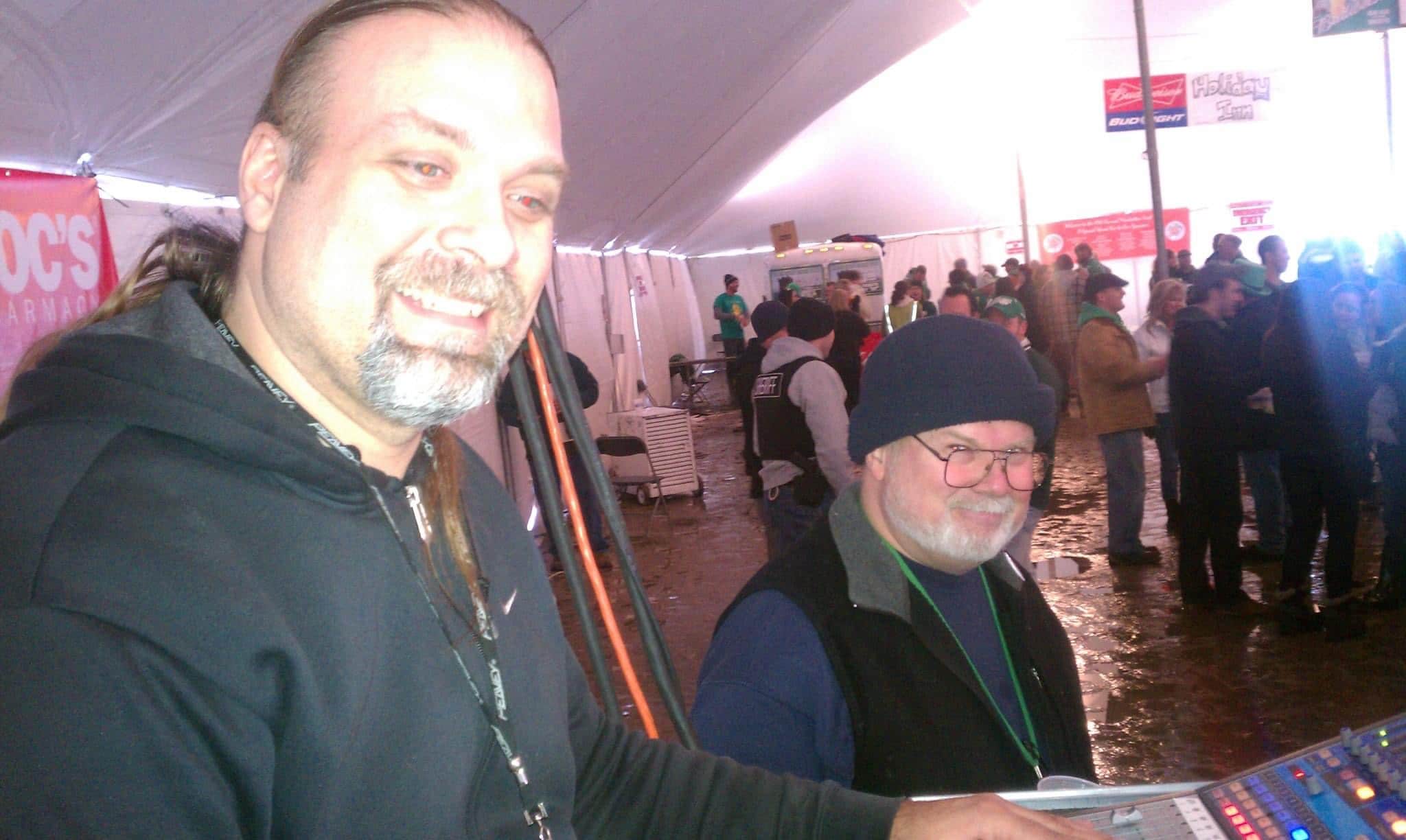 In the mid-2000's Jim Sr. started doing more and more with audio production and many times, needed an extra hand so Jim Jr. was there to help. While JJ always loved performing on stage, a new passion was taking hold – a passion for event production. Around 2010, Richards' Music & Electronics started making a real mark in the concert production and corporate event world. In 2012, JJ decided it was time to step away from being the center of attention on stage and took his place in the production world off stage.
As Richards' Music & Electronics continued gaining momentum in the event production space, more and more people would come up to the Jims during these events and ask who we were. We would always reply with "Richards' Music & Electronics" which would be followed up by a confused look on their face, and a second question, "What does electronics have to do with live events?" After years of fielding this question, RME Audio Video, Inc. was born. If you're interested in the official announcement of this, you can click here to see our official press release at the beginning of 2016.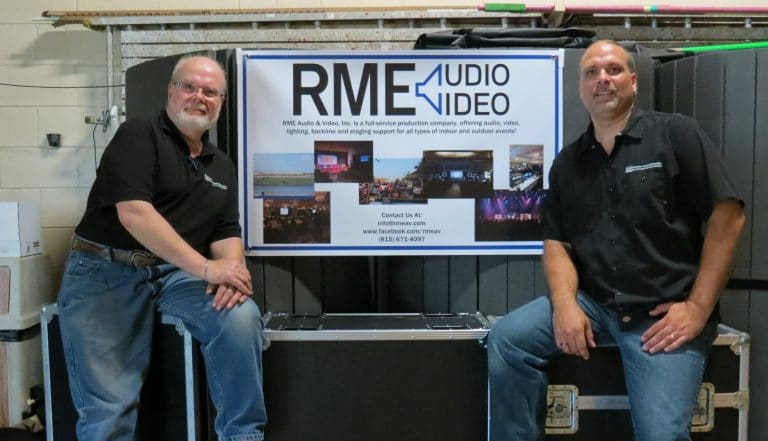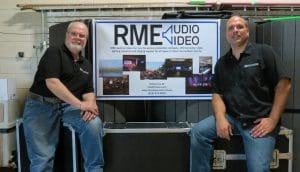 RME AV is a local, family-owned and operated business.